Articles -
Healing
Written by Martha Hultgren
The Remarkable Body

In the weeks it took to nurse my injured foot back to health, the Lord showed me how the larger Body of Christ—the Church—is also hindered when its members are hurting.
March 2012
"I hope it's not broken" was all I could think as I rolled around on the ground in excruciating pain, clutching my right foot. In a weekly exercise class I attend, I was leaping about on a BOSU (for those who don't know, BOSU stands for Both Sides Up).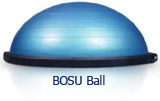 During class we step on and off it, using it to enhance balance, and we also bounce on it almost like a mini-trampoline. We were jumping on and off of it, and my foot caught the edge; the next thing I knew I was on the ground, in pain, and unable to stand or bear weight on my right foot.

I had the unenviable experience of being rolled out of the club in a wheel chair, where my son retrieved me and drove me to the local Urgent Care to determine the extent of my injury. I wouldn't recommend an 18-year-old male as a ride to Urgent Care, which I realized too late as he was racing me around the facility, popping wheelies with me in the chair, while I held on hoping not to do any further damage.

The good news was that thankfully nothing was broken. I had pulled some ligaments and had some swelling that would put me out of commission for a while.

I am now about six weeks past the injury, and am finally at the point where the swelling is almost completely gone and I can do everything I could before without any pain.

Through this experience, God taught me some things about the body. First of all, I began to notice the lack of function that my entire body experienced because one part was hurting. Because I couldn't walk, other parts of my body had to "pick up the slack" and do what they weren't designed to do.

I also noticed the constant nagging ache from the injury pulled on my attention and distracted me from tasks that needed to be done.

Over the years I have spent much time in prayer for the body of Christ. The Apostle Paul teaches us as Christians, we are all members of His Body. Romans 12:4-5 tells us, "We, being many, are one body in Christ, and individually members of one another." In 1 Corinthians 12:27 he tells us, "Now you are the body of Christ, and each one of you is a part of it."

As I walked through my recovery, the Lord showed me how the Church is hindered when its members are hurting.

God created and constructed the body
"God has put the body together." (1 Cor. 12:24 a)

When our body is whole and functioning as it should, we can go about our daily activities and accomplish what we need to relatively effortlessly. We don't really notice what we can do until we can't do it. Just walking around the house and taking care of chores doesn't seem that difficult, until you try to do it on one leg.

Likewise, when a member of the Body of Christ is hurting, things don't get done the way they were meant to because that member is out of commission. We as His Body are hindered from doing the works God called us to do because all the members are not fully functioning as designed.

Each part of the body should have equal concern for the other parts
"This makes for harmony among the members, so that all the members care for each other." (1 Cor. 12:25 a)

As I was recovering, other parts of my body had to "pick up the slack" for what my foot usually handled. I also took special care of my foot, elevating it, icing it, and massaging it in an effort to help it heal and get back to full function. I knew instinctively that until my foot was better, I was not going to be back to 100 percent.

If one part suffers, every part suffers with it
"If one part suffers, all the parts suffer with it, and if one part is honored, all the parts are glad." (1 Cor. 12:26 a)

Understanding this, I look at the hurting members of the Body of Christ differently now. In the past I usually had a "Get over it!" attitude, but I now realize that if they hurt, I hurt as well. If others are suffering, they are not able to function in the role God created them to play, and we all as a body suffer.

When we encounter those who are hurting, we need to give them that Tender Loving Care that we ourselves would want, so they can get back to playing their part.  Only then can we fully accomplish what God has for us.

We have so many ways to do this. It can be as simple as giving a hug or a word of encouragement to someone you know is suffering. When I fell in class, other class members were so kind to me. They gave up their exercise time to make sure I was alright until a first responder arrived.

After my trip to the Urgent Care, my sister-in-law brought me home and made sure I had everything I needed within reach so I did not have to move around the house on crutches. My family helped by taking on household chores I normally did, and others supported me with prayers and encouragement.

The "TLC" I received from others blessed me and aided in my healing. I learned firsthand how a little compassion goes a long way to someone who is hurting.

On a larger scale, many members of Christ's Body worldwide are hurting right now. Persecution of Christians has escalated since the Arab Spring and has received national media attention. Our brothers and sisters in these nations need our prayers, love, and support more than ever.  Remember, when one part suffers, every part suffers with it!

If you are someone who is hurting or experiencing a challenge in life, it is my prayer that you will stay strong in your faith, not give up, and continue to seek help from God and others whenever possible. To encourage you spiritually, I urge you to visit www.cfaith.com and take advantage of the wonderful supply of faith-building resources available there. There is no cost in visiting or becoming a member of cfaith because the purpose of our site is to serve as a ministry outreach to you and your family.
Thank You
Every time I walk into cfaith (without crutches by the way!) I am reminded that we would not be here without the prayers and support from people like you. I am so grateful to work and serve at a ministry that has blessed and encouraged Christians all around the world for more than eleven years. Last month alone, individuals in more than 160 countries visited the cfaith website—praise God!

Even though I do not know all of the people from those countries, they are our brothers and sisters in Christ…and your ongoing donations and faithfulness to cfaith help us connect and minister to all of them.

We are all members of the Body of Christ; therefore, as you go through your month, be sensitive when the Holy Spirit prompts you to extend some kindness to someone who comes across your path who is hurting. First Peter 3:8-9 instructs us: "Finally, all of you, be like-minded, be sympathetic, love one another, be compassionate and humble… because to this you were called so that you may inherit a blessing." The person you might be helping the most… is yourself.

Again, thank you for helping make the ministry of cfaith possible.

In His service,

Martha Hultgren

cfaith staff
Comments
(1)
Subscribe to this comment's feed
Write comment